FireScene
Pre-planning and Reporting Software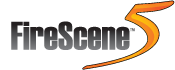 NEXT GENERATION REPORTING:
FireScene is an easy-to-use, grant-eligible field diagramming and reporting software tool that enables quick and accurate documentation of facilities and evidence collection. It improves planning, training, exercise, and operational effectiveness.
Built upon the foundations of Easy Street Draw and ScenePD—tools which have now enjoyed 15 years of success serving the needs of over 3,500 law enforcement agencies—FireScene brings the nation's most widely-deployed scene diagramming solution to the fire community. The software's intuitive design makes it fast to learn and easy to use, whether connected to a network, or operating independently.
Adding to its best-of-breed foundation, FireScene introduces tools built or enhanced for the specific needs of the firefighting and arson investigation communities, including:
additional symbols, with fire-specific symbols ranging from apparatus and tools, to NFPA tags and arson evidence
a complement of valuable forms, including a Pre-Fire Plan and the full suite of NFIRS reports
Storyboarding technology for use in post-event critiques or to enhance training
GPS and Satellite Imagery capabilities built in for accurate capture of location and use in diagraming
Enhanced export capabilities, to include XML, PDF, and PowerPoint for real-time reporting
Initial Maintenance Period:
All products include maintenance for the first 12 months from time of purchase.
Extended Maintenance Coverage:
When purchased at time of core product purchase, additional years of Maintenance is 18% of purchase price/year.
If purchased AFTER core product purchase, additional years of Maintenance is 18% of THEN CURRENT purchase price/year.
Customers current on maintenance receive the following:

Free Technical Support
Free Remote Training
Free in-version Updates and Bug Fixes
50% Discount on Major Version Upgrades
| | |
| --- | --- |
| | |
USE FIRESCENE FOR:
To enhance the value of preplanning, drag-and-drop capabilities on the diagram enable users to accurately illustrate structures and incident scenes to scale in minutes.
Using visual scenarios, firefighters can position apparatus, fire suppression activities, and teams to attack the fire and protect exposures. Built-in 'cloning' technology enables storyboarding for post-training evaluation.
Positioning apparatus, hose line deployments, and other fire suppression operations on the diagram enables users to create a time-based storyboard of an incident, adding value to subsequent preplanning efforts.
Including a complete set of NFIRS forms that include drop-down category lists, the system prevents selection of improper subcategories, increasing user accuracy and saving significant time in reporting.
Combining to-scale diagramming with supporting digital photos creates a powerful evidence collection tool. FireScene can illustrate burn patterns in a single room, an entire building, or across a vast wilderness. Users can add dimensions to increase the diagram's accuracy and relevance.